Buyer Beware!! Home Battery Offer Letter In The Post
Have you ever had an offer that seem too good to be true? As the saying goes, "if it's too good to be true, it probably is". This is a cautionary tale, a buyer beware tale, about a certain solar company that invites you to join a trial or a test case. They say, if you have solar panels a letter may have been sent to you in the post. This letter contains an offer to take part in a limited and exclusive trial to access a home battery. However, the home solar battery is with a name you probably have never heard of at a price you have no idea whether it is good or bad.
My dad (86 years young) received one of these letters and after reading it, he was pretty excited about joining the sample pool. To me it looked like a well written scam from the get go, but to keep my dad happy I rang the company to check it out, and this is what happened…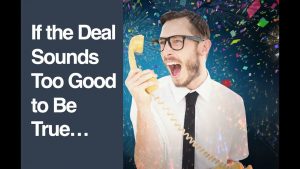 The first thing that was said is "due to the high demand all the 300 allocation was sold out is it ok if I put you on hold so I can check with management to see if I can allocate an extra system?.."
This was the first red flag for me..
Hold music..
Then surprise, surprise, "we can fit you in but you will have to act quickly.."
After a long drawn out process asking the standard questions
How big is your Solar System?, single phase?, where is the meter box? how much is sent back to the grid?, etc etc..
More hold music…
Then guess what, "I'm happy to say your Dad still qualifies" .. Its amazing…
So I then asked for the price.
Still had to listen to a huge blurb about the battery then on hold for another 5 minutes
Finally I got the price $10,280 but because I qualified for the (bogus) trial its $7680 for a 5.8kWh battery. (Which is equivalent to $1324 per kWh for a Chinese made battery with no brand name).
Considering you can get a world famous Tesla brand for around $1000 per kW it seems a little expensive
I then asked what would be the expected payback time and after a lot of talk like it depends on a lot of factors, like the way you use the power blah, blah, blah the girl said 10 years…
I calculated at a best case scenario 5.8kWh per day at .21c per kw = $1.22/day = $444 per year = a 17 year payback not 10
Then I read the reviews on line and boy oh boy they have some very bad reviews. Please check them out for yourself.
Freda Duke
1 review
3 weeks ago
It's 10 weeks since my battery was installed, it didn't work then and still isn't working.
I get promises of technicians to fix the problem. I stay at home and no one arrives Today is my third non appearance.
One man came a couple of weeks ago, thought it might be working but it was home time and off he went.
Staff are polite but action is very poor.
At this moment in time I would not recommend Solar Services Group to any of my friends
High pressure tactics and dubious product
published 3 months ago
I received a form letter from Solar Service Group and rang to ask about the deal. Firstly I went through the "are you eligible? plus lots of FOMO prods like "there are lots of people already signed up you might miss out."
All I wanted to know was the facts and figures so after enduring a lot of sales gimmicks," Is it fair that you only get 7c back for the power going back into the grid?" I was finally told the subsidised trial price A whopping $5,900! They also wanted this upfront ( to save my spot lol ) before I saw the contract which includes the terms and conditions. Naturally I refused and then they offered to take just $590 from me as a huge favour.
I said as I was spending less than $1000 a year on power it didn't seem likely that the battery would be worthwhile and I still needed to see the contract before I gave them my money.
The sales person became rather annoyed at this and asked me when I would be likely to commit as places were limited. I said I would decide after reading the contract and t&c. He promised to email it to me but nothing ever appeared, not even in spam.
Unconscionable conduct is defined by the WA Dept of Commerce and there are 10 day cooling off periods that may apply.
In conclusion, Please do your research , Read the reviews the good and bad, Do an ASIC search, Check to see if the battery is on the CEC approved battery list
Josh Brook
55 reviews • 1 photo
6 months ago
Deceptive and misleading conduct from this company! They send out letters inviting you to participate in there program but when you contact them they want to sell you a battery.
These are just a few of the endless list of complaints and negative reviews found on Google regarding the practices of unscrupulous solar companies like this.
The other thing I found strange about this company, is that they trade under a few different names. If they were an honourable company, why would they need different names?
So what is wrong with buying a cheap home battery anyway?
It is important to look back in time to predict the future.
Power Electronics is a tricky business, and many companies have come and gone in the Inverter / battery business.
So we think it's a huge risk buying a no name Home battery from an Eastern states company, with a dodgy reputation. At best, you will lose thousands of dollars. In the worst case scenario, it could even burn your house down! So it is important to stick with the big and trusted brand names and a reputable local supplier / installer. Do your research..