Off grid solar systems supply electricity to properties that do not have a connection to the public electricity network.
These systems are often known "stand-alone power systems" (SAPS), or "remote area power systems" (RAPS).
All these systems are independent power stations capable of powering a wide range of properties including home or business with reliable electricity.
These systems utilise the energy generated by the sun by harnessing the power that your solar panels store.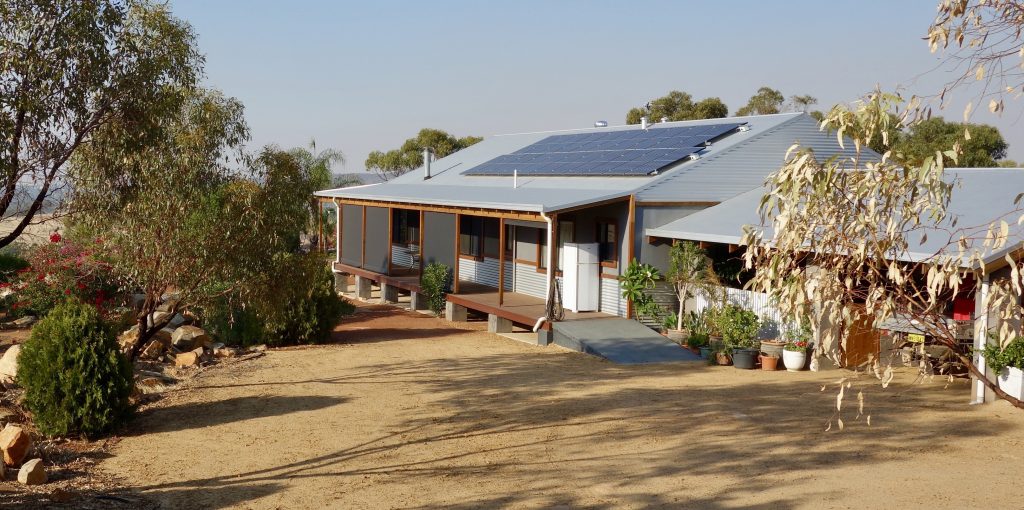 Clean NRG Solar are leaders in Off Grid Solar Systems. We offer a complete range of Off Grid Solar Power Systems giving you a quiet, clean, efficient source of remote power anywhere at any time. Below are the 4 different sized Off Grid Solar power systems we can provide. We have outlined a brief description of performance, capability and budget requirements. At Clean NRG Solar, every off grid solar system we install is designed to meet your unique power requirements and can be tailored to meet your performance and budgetary expectations.
Choose from our range of Off Grid Solar solutions:
Benefits of Off Grid Solar Systems
If your residence does not have a grid connection available or it's estimated to cost over $20,000 to grid connect, an Off Grid Solar System is a great alternative to a noisy generator.
You can achieve a silent solution of free power. Running costs will also be very low as off grid solar harnesses our Perth sun as your main power supply while allowing you to enjoy the serenity.
Is It Worth Going Off Grid in the City
The grid offers us an abundance of electricity which allows us to turn everything on at once, whilst not having to worry about tripping the system.
The cost to build a solar power plant with this capability would be over $100,000. You would be much better off installing a large grid connect Solar system for between $5,000 & $7,000.
Our advice – keep the grid and save the money.
Having said that, it depends on your reasons for opting to disconnect from the electricity grid. If your power quality is poor (appliance damaging grid voltage and frequency) with frequent black or brownouts and you really need your appliances to run when you want them, an off grid solar system is perfect.
For example, you may be running a business from home and you need the power on all the time. Or you absolutely need your rainwater tank's electric pump to work during bush fire season. In these situations off grid solar is well worth considering.
In general, most people in Perth have a relatively good quality power supply with infrequent disruptions, so off grid solar system is generally not needed. If you are considering disconnecting from the grid and think it is a good way to save money on power bills… well, we are not quite there yet.
In general battery bank replacement costs are slightly higher than what you would have paid for power over a 10 year period. However, we fully expect power prices to rise and battery bank pricing to fall.
So we may only be 2-5 years away from disconnecting from the grid becoming a very attractive financially savvy option to consider.
How Do I Size My Off Grid Solar System?
This is the important part of designing and sizing a system that is right for you and your family.
To size your system, start a spreadsheet and list all your appliances in one column, in the next insert how many hours per day they are in use.
Please use our Appliance Electricity consumption guide as a reference. Then add up your totals for summer and winter and build a monthly energy usage estimate.
We can then design a system to suit your needs and tweak your load profile to give you the best value for money possible.
Please refer to this appliance electricity consumption guide. 
Who is Eligible for Off Grid Solar Systems and When Should You Get One?
Anyone is eligible for an off grid solar system.
As long as you have a property to put it on, you are eligible.
If you are already connected to the grid and want to be independently powered you can disconnect from the grid and generate power from an off grid solar system.
If you have a property that is not connected to the grid then it is well worth considering an off grid solar system to supply your power requirements.
Particularly when it is going to cost you northwards of $20,000 to connect to the grid, in which case an off grid solar system is an extremely viable proposition.